Famous for landscape and seascapes, the American painter and printmaker Winslow Homer is a prominent figure in art. The self-taught artist started his career as an illustrator. Soon, he started with oil painting, and later his interest was directed more toward producing watercolor paintings. This artwork technique signified visual weight and heaviness. Winslow Homer aced the use of watercolor with immense grace and innovation and ultimately got his international recognition as a watercolorist.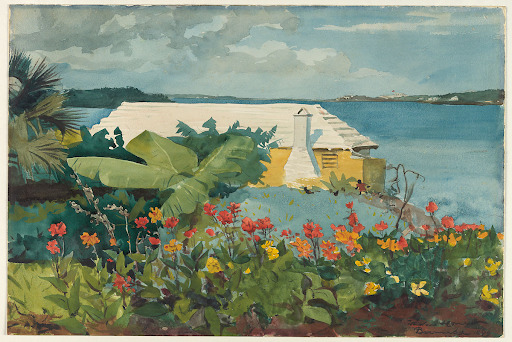 Background
Homer's first watercolors consisted of everyday life, primarily encompassing children. And much of his fame related to watercolor painting came from his mother, an amateur watercolorist, who introduced this technique to Homer at a very early age. 
At first, Homer used watercolor engravings for his oil paintings, but until the exhibition in 1873, he showcased his technique. And by understanding this technique, you can learn about Winslow Homer's paintings. This was the time when watercolor was a fairly new artistic medium. Gradually, the American Watercolor Society held an exhibition showcasing the watercolor works of Americans and Europeans. 
This helped watercolor gain popularity as an artistic medium and inspired Homer for his works. And as a result, the world got to see the fantastic Winslow Homer's artworks.
First Series of Watercolor paintings
In Gloucester, Mass, the painter Winslow Homer created his first painting series using the watercolor artistic medium. Winslow Homer's watercolor paintings incorporated loose graphite for the underdrawings compared to the top, where he applied opaque watercolor and washes. Homer used smooth paper for his detailed waterworks. 
Also, you could see how Winslow Homer captured the sparkling effect of light in his paintings by applying paint on the dry surface. This resulted in small bits of white flecks that would show through the surface and create a sparkle. The talented artist used white paper and white opaque watercolor or gouache. These techniques are visible in his famous work Boys in a Dory. This artwork carefully captures the dazzling sunlight, the rippling water, and the bright environment at Gloucester Harbor.
The earlier works involving watercolor art are simple and direct. Homer was very cautious when he first started the new techniques. This is visible through the pale pencil sketches and the opaque pigments. Such exciting use of the technique predicts his later mastery over this technique. 
"You will see, in the future, I will live by my watercolors"- Winslow Homer.
The watercolor technique of art
The famous painter Winslow Homer traveled to areas like Canada, the Caribbean, Bermuda, and Florida. He observed the life there and preferred capturing them using the watercolors that he felt were easy to carry. It was more of a medium to implement what you observed in nature. 
With those rapid brushstrokes, Homer captured the moving animals, the waves, the seashore, and the changing lights. Homer preferred to paint and experiment with watercolors, allowing him to paint freely. And that is what an artist wants; to paint without limitations or boundaries. Homer would, however, easily carry the watercolors and capture nature at different locations.
His first watercolors were presented at the American Society of Painters in Water Colors, an exhibition where he received a mixed response. Viewers, especially the critics, thought that Homer's works, though raw, were fresh and original. In addition, the viewers were mesmerized by what he produced, considering it was appealing to the eye, having felt the sea breezes directly. 
The amazing Winslow Homer artworks showcase the unique viewpoints shown in his watercolor paintings. During the artist's holiday in Nassau, he created several watercolor paintings showcasing the beautiful landscape and moderate climate. One of such works is A Wall, Nassau, where Homer paints a tropical-colored Caribbean scene instead of presenting a typical postcard picture. Homer puts a simple, gray wall in between to block what you see as a typical shoreline image. This unique viewpoint shifts the attention of the viewer from the leading sailboat. Homer artist deliberately uses horizontal lines to divide the painting with reds and oranges on the wall, creating a sense of movement and harmony. As mentioned earlier, Homer's watercolor technique used white paper, and in this artwork, the technique is used to play with the effect of light gathering all our attention onto the wall. You can check out Winslow Homer's watercolor paintings here: 
Moonlight
Like landscapes, Winslow Homer's sea paintings and Winslow Homer's seascapes were very popular. One such work is the Moonlit which he created in 1874. Moonlight showcases two figures looking across the sea. The light, however, is transitioning from light to dark areas. 
The painting sets a very calm atmosphere; all we see are our silhouettes. At one point, the viewer would see a couple relaxing along the sea. Creating simple paintings was a talent of this artist who produced Moonlight using his watercolor technique. Typical of his other paintings, Moonlight depicts the use of a graphite pencil with watercolor on top of it. 
Mending the Nets
One of his early waterworks includes Mending the Nets, where Homer captures the idea of families at work. The watercolor painting showcases the life of fisherwomen that revolves around mending, dividing, and distributing the fisher. This work reflects Homer's grasp of classical sculpture. This is evident through the overlapping women directed towards their daily tasks. 
Other famous watercolors over graphite created by Homer include The Milk Maid, Four Boys on a Beach, On the Sands, and several more.
Conclusion
Winslow Homer got international recognition as a watercolorist after he produced his last watercolor painting in 1905. Homer's watercolor paintings are known to be the most significant part of art that America has ever produced or seen. One of the reasons for this fame is his innovation and challenging interpretation of what he created. Also, Homer mastered the execution of the watercolor technique and extraordinarily achieved control over what he produced.